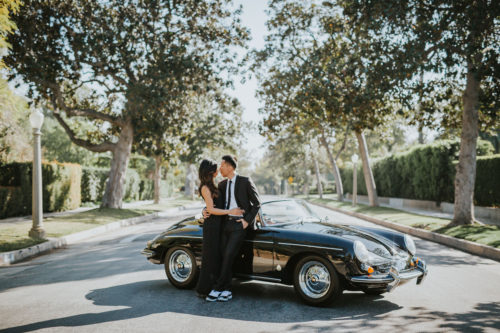 I love doing engagement shoots because it lets me get to know my clients before the wedding.
I learn so much about our clients when I'm preparing and collaborating with them to make their unique and personal engagement shoot. I learn everything from how they met, what they love and appreciate in each other, and all of the fun things, like what their nicknames are and funny stories they have. You can't help but bond when you start learning all of these interesting details. Add on a fun and relaxed photo shoot just for them, and by the time the big day comes, it feels like we're all old friends.
At an engagement shoot, it is my chance to meet and work together before your wedding day. It gives you the chance to practice your moves in front of the camera! Think of your engagement session as a trial run for the big day. Most of our couples alway say how nervous they are, that they don't do well in front of the camera, that they take horrible pictures, and that they can't model (these last few come from the guys mostly). An engagement session is a non-pressure environment where we can work through all of this. You can be yourselves and have a little fun and let us figure out your "good sides," or how to get you guys to hold each comfortably in front of the camera. The more comfortable you are, the more genuine the photos will be.
The wedding day is going to be a whirlwind of emotions and things are going to happen so fast that you may not even have a chance to take a deep breath. We really won't have much time to spare to try out many different poses or a position to figure which one is best. But with an engagement session together, poses and directions will feel more natural because we have already done and worked through them together. You'll have much more confidence in yourself and that confidence will show through and elevate your wedding photos from average to amazing.  And that makes the photography part of our clients' wedding day go much smoother!
Trusting your photographer, and all your vendors, is SO IMPORTANT. After all, your photographer has the sole responsibility of capturing every moment of the most important day of your lives. As your wedding photographer, it is my JOB to make sure you enjoy your day… not get caught up in what is or isn't documented. My goal is to earn your trust during and after the engagement session. That way, on wedding day you'll know your most priceless of moments are being documented at every moment so you can relax and enjoy your BIG day.
If you'd like more details on having my shoot your wedding and engagement shoot, shoot me an e-mail! You can also check out my engagement portfolio!